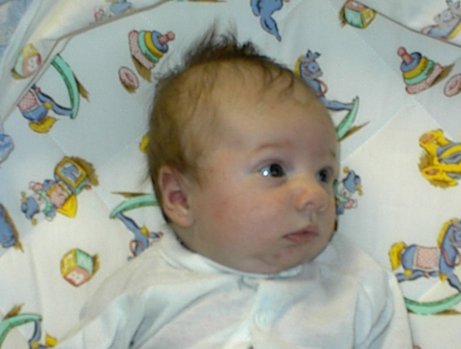 On this page, we'll talk about how the baby Bailey seems to like that nursery Jenny and Cory worked so hard on, any toys or songs that he or she seems to be taking a liking to, what her sleeping schedule is like, and how Jenny and Cory are responding to sleep deprivation.

We'll also note any significant Bailey "firsts," such as first time in the carriage and first smile.
March 30,2001
Bailey has been fighting a cold this week and been just a little fussy. Mommy and Daddy have handled this first very well. Bailey has decided, at least for the moment, that she prefers her swing, to the boucy seat. Mommy has discovered that when Bailey is in the swing, she can get much more done around the house. She really seems to enjoy her bathtime now also. Bailey is now focusing in on objects and has even been caught watching the tv.

Grammy has been so happy this week!! We went to visit them on Sunday, then Jen and Bailey came home on Tuesday and stayed the night at her great grandma's house. So I got to see her on Wednesday as well. My friend Tammy and her daughter Jaymie and I, took a trip up to see them on Thursday. So, Grammy has had a wonderful dose of Bailey this week!!! What a joy!!